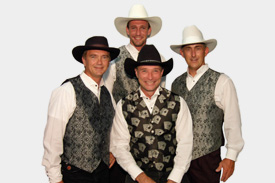 Welcome to Entertainment Specialties Inc.! Our typical event is a 3-hour turnkey party. It consists of 2.5 hours of gaming and a half hour of cashing in and awarding prizes. Our price includes all delivery, set up, tear down, staffing, (dealers, cashiers, auctioneers) background music, and related items. We charge a very competitive per game price and you can choose whichever games you prefer at this rate. We consistently maintain the best looking equipment and staff anywhere in the country - at any price!

If your considering a theme type event for your next get together, please, give us a call. We can invite potential clients out to a similar type event we're doing in your area so you can check us out first hand. It's really the only way to know for sure what you're getting. We are virtually self contained and require little or no assistance from the host facility, other than space. The theme games can be used by themselves or in combination for all types of flavors. Our staff members normally dress in black and white tuxedo style outfits, unless you request otherwise. We are pleased to supply or work with DJ's, Bands, Bartenders, Caricature Artists, Polaroid Girls, Decorations, Props, and Entertainers of all types. We have worked at just about every facility in our service area and would be happy to lend our expertise if you would like assistance in finding a location for your event.

If you're looking for the best value in the Entertainment Industry please be sure you are comparing apples to apples. Our staff and equipment can accommodate many more people per game than most companies and almost always at a better price.